Products
The Australian Dream and $1 Properties
Would you like to own a two storey, airy home and land in a major city for just $1? Mortgage-free! An impossible dream you say?
Could you turn $100 into 2000 properties and land-bank lots? Ridiculous? Peter Huang's autobiography - "The Australian Dream and $1 Properties" shows you how.

Peter owns the highest ranking real estate company in Queensland, Australia amongst the states Top 400 Private Companies with net assets over $80 million in 2008. Not bad for someone who arrived in Australia in 1991 with $100 in his pocket!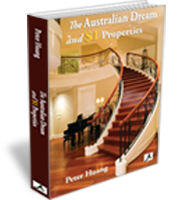 His next task is to make it a billion dollar company with at least 10,000 investment properties and land-bank lots. At the same time he aims to make YONG the largest real estate franchise network in the world, employing over 300,000 people, all using his "YONG System" and "28 No or Little Money Down Property Investment and Development Strategies".
In his book, Peter shares his personal and business coaching, property marketing, management, investment and development experience to show you how to potentially create an extra $2 million to $10 million net equity for yourself and your family.
This book is the best gift you will ever give to your dear family and friends. A must read for those who want to take their lives to the next level while enjoying a balanced quality of life prioritising health, family, career, wealth and entertainment.
Remember this: "If Peter can do it, why can't you do it even better?"
Click here for testimonials
Order a copy of the Australian Dream and $1 Properties online today.  You can also purchase a copy of the book over the counter at any Yong office for $50.00.
BUY PAPERBACK VERSION ONLINE:
Select your shipping option (price includes shipping costs), then click Add to Cart button and pay for your order through paypal.
BUY EBOOK VERSION - $18.00 
Click Add to Cart and pay for your order through paypal.  Once your order is processed, you should receive an email with a link to download the ebook version within 48 hours.
---
Contact Us
For further details, please contact Sarah Saunders on the details below:
Phone : (07) 3373 9835
Office : (07) 3373 9888
Fax : (07) 3373 9889
Email : sarah.saunders@yong.com.au