Buying Tips
Are you looking to buy a property and you are ready to buy now??? If your answer is "Yes, i am ready to buy"... then the below are a few great helpful suggestions and property buying tips on how to get started when buying your property :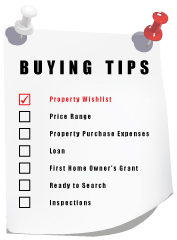 1. Property Wishlist
Write a list of your preferred locations, property types and number of bedrooms, bathrooms, garages and any other details you are looking for.
2. Price Range
Think about the property price range that is most suited to your financial plan. Look through property advertisements from real estate agencies, local newspapers and property websites in order to collect information that will help you determine what sort of price you would be looking at. Search individual real estate websites to find out the prices of recently sold properties.
3. Property Purchase Expenses
It is very important to make a note of any expenses related to purchasing a property which can include stamp duty, solicitor fees, loan insurance fee etc... these costs will be approximately 5 percent of the purchase price of a property. Contact your solicitor for more detailed information.
4. Loan
If you need a loan, find out how much you can borrow. Set up an appointment with your financier to discuss your personal loan requirements and to arrange the best individual loan to suit your needs. Our financial specialists aim to provide all our lenders with superior home loan applications to save you time having to shop around.
5. First Home Owner's Grant
Find out if you eligible for the first home owner's grant.
6. Ready to Search
When you have a good idea of your price range and what you are looking for, start searching and looking at as many property websites as possible to find properties that match your search criteria. Start with "Property Search" at www.yong.com.au, followed by www.realestate.com.au and www.domain.com.au.
7. Inspections
Attend as many open for inspections and auctions as you can. This will help you get an idea of what properties are worth in the current market so you can make an informed decision when you find your dream property. You will get the first hand information and knowing what property worth in current market.