Landlord Services
Our Commitment to You (Landlord)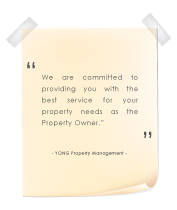 We have new landlords coming to us all the time with some questions about :
Timely reports
Quality of Tenants
Inspection frequencies and reports
How quickly YONG will rent out a property ?
Experience the YONG Difference
Here at YONG, we will automatically put your mind at ease with our experienced and dedicated property managers. You will never need to ask these questions again as you will be provided with a high level of quality service that is second to none.
Please feel free to contact us today to find out more details or to talk to your local property manager.